Hotel Info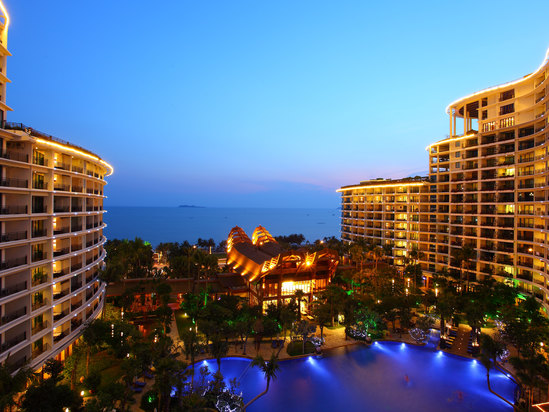 Ocean Sonic Resort Sanya
is located on a separate beach in the center of Sanya Bay, close to Sanya Phoenix Airport, downtown, and train station.
The resort-style hotel in Southeast Asia looks like two luxury cruise ships. The three-dimensional ventilation design allows you to feel the sea breeze without leaving the room.
The guest room has a wide view, with soft couches, natural bamboo and wood decoration, and a private terrace bathtub. You can enjoy the beautiful sea view while bathing, and pull down the bamboo curtain to enjoy your personal space.
Xi Yun He Xuan, Bali style, Hai Yun Bar and Sky Private Party provide Chinese and Western specialties, allowing you to enjoy various tropical dishes.
Don't miss the seafood buffet hot pot BBQ (Dinner) at Fisherman's Wharf. After dinner, listening to Filipino band singing on the beach chair by the pool is also very good.
After a rich and delicious breakfast buffet, take your child through the underground passage to play sand at the 350-meter beach, or take a walk in the tropical garden to eat.
The outdoor oversized center swimming pool has water children slides and water entertainment facilities. There are three temperature pools: low, medium and high. It is suitable for all ages. Don't worry about getting cold.
The newly upgraded children's playground is a paradise for younger babies; the exciting stimulation of the real-life CS Forest Castle and rock climbing and zipline in the back garden is even more interesting.
Spa and Spa, one-on-one personal butler service and 800 square meters of coast meeting space, can fully meet all your needs.